Vanessa Bailey MIT MRIPH is the resident senior consultant trichologist within the world renowned and Royal Warranted John Bell and Croyden Pharmacy in central London. Vanessa has a wealth of clinical experience spanning over a decade and takes particular pride in the fact she has helped many men and women take control of their hair and scalp problems over this time.
Vanessa was inspired to follow a career in trichology from her time studying hairdressing and beauty therapy. Destined for a career in hair and make-up design for film and television, she was taught by a master hairdresser who insisted upon educating his students on the basics of common scalp and hair disorders, subsequently this lead Vanessa to study this new found area even further and upon qualifying with distinctions from college she started her studies with the Institute of Trichologists. At the same time she was accepted to join a top London trichological practice based in Harrods's, Knightsbridge and that proved to be just the start of many years of invaluable clinical experience.
Vanessa went on to became the youngest ever qualified female trichologist and was awarded associate of The Institute of Trichologists and following three years post-qualifying clinical experience, full membership of the Institute of Trichologists and full membership of the Royal Institute of Public health was awarded to Vanessa in 1996.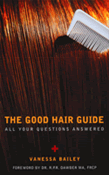 Vanessa has also become a regular contributor in the media on her specialist subject, her trichological knowledge has featured in Top Sante magazine, Marie Claire magazine, Now Celebrity Hair magazine, Health and fitness magazine, Men's Health magazine and on BBC television and radio 4. Vanessa was also recently invited to help launch a new high profile hair care product range both in London and Sweden and is author of The Good Hair Guide: All Your Questions Answered.